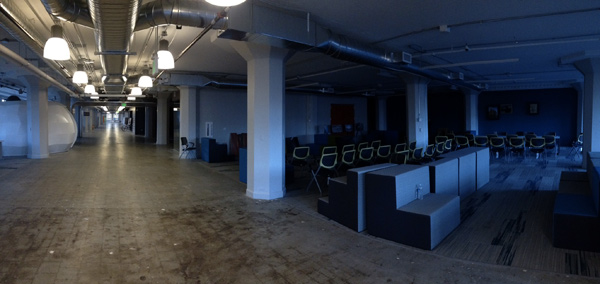 After seven months of working from our homes, Peter and I have moved into Runway SF, a coworking space. Even though it recently opened, it already consists of a number of startups, technology companies, and related businesses. We were lucky and had a connection through a colleague who introduced us to Runway's office manager. We grabbed two window seats.
Runway is the cool new kid in the shared workspace community
This space is really cool. First of all, it is in the Twitter building, along with Yammer. Considering that Recognize is partnering with Yammer, the location couldn't be better.
The long hallway, or runway, is filling in with companies. Every day new companies are moving in. We really got in right at the beginning. Runway doesn't even have a website yet.
Runway space itself has a lot going for it. The space includes a nice bar, igloo-like meeting room, sound proof conference room, lots of windows (that open!) , kick-ass meeting event area, and you can easily play frisbee 🙂
The igloo meeting room

What is really cool about the igloo is the light show it puts on via remote control.
Bar

The bar area is usually stocked with beer and liquor. Plus it touts a great ice machine, and sorted compost, recycling, and garbage.
Corner hang out / party prep area

Back in the far SW corner overlooks Market St. It has a small kitchen table, arcade console beer keg contraption, and a big refrigerator.
All this space needs is a ping pong table!